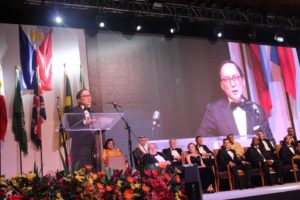 By Peace Post Staff// Images: Christopher Cottrell
In honor of the late Dr. Colonel Evelyn Gusi, the 2017 Gusi Peace Prize International in Manila selected some of the finest medical minds in the majority of this year's laureates.
They included Dr. Wang Yaoxian, Dean of the first College of Clinical Medicine and Peking University of Chinese Medicine, and Professor Ronald Harden, OBE, a pioneer of the Objective Structured Clinical Examination (OSCE) and professor emeritus of Medical Education at University of Dundee and General Secretary for Association of Medical Education in Europe (AMEE).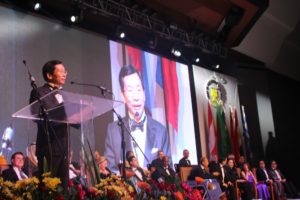 The Honorable Dr. Aykut Eken, President of the World Federation of Consuls (FICAC), said, "As a former Gusi Laureate, I am touched by the work of Professor Fok and Dr. Billy Chan to bring in more medical doctors to this program. For the past three years they have built the Sino-Asia Pacific Medical Forum with the Gusi Peace Prize to sustain medical care in the region with progress."
The Honorable Dr. Eken continued, "I would like to see both Professor Fok and Dr. Chan expand this medical diplomacy through FICAC, with a potential conference held in Turkey in 2018. It would be fantastic to see medical education and simulation training experts come together with our international network of Honorary Consul Generals around the world to better healthcare services for all of humankind."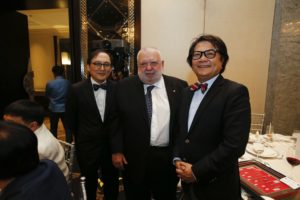 Dr. Paulyn Jean Rosell-Ubial, outgoing Secretary of Health of the Philippines, and diabetes expert Dr. Leilani Asis of the Philippines, were the local laureate medical heroes in attendance.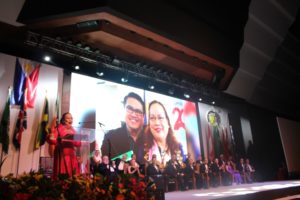 Dr. Florentino Cardoso, President of the 400,000 thousand member strong Brazilian Medical Association, Dr. Nikolai Korpan, a famous crypto-surgeon from Austria, and anti-acid attack plastic surgeon Dr. Ashok Gupta from India were also all awarded Gusi Peace Prizes for their heroic deeds in medicine.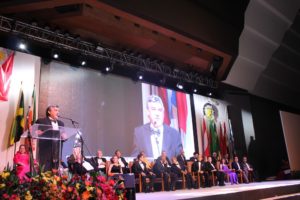 Addressing an audience of over 5,000 people at the Philippines International Convention Centre, Dr. Wang said, "Chinese culture carries the values of peace and balance and harmony. As one of our most treasured values, it brings harmony and peace has long been in every living cell."
That sentiment of peace and harmony was evident as this year's Gusi was held in conjunction with the 3rd Sino-Asia Pacific Medical Forum that Dr. Colonel Evelyn Gusi co-launched with Professor Manson Fok and Dr. Billy Chan in 2015 with a joint communiqué signed by former Portuguese President Antonio Ramalha Eanes, himself a 2015 Gusi Laureate.
President of the Gusi Peace Prize International Dr. Manson Fok recalled Dr. Colonel Evelyn Gusi, saying, "Words cannot describe the tremendous sadness in our hearts for her loss. She left us far too soon. We shall always remember her graceful poise, her warm-hearted smile and words of kindness and wisdom.
Evelyn was very much the heart of it all, and will always be true to her beacon for peace and harmony. Our hearts goes out to ambassador Barry Gusi and to his family, the children Mikko, Evanka, Conchitina, and Marcos, for in this time of great sorrow and that you may seek comfort in the hour."
Other Laureates included the Honorable Asif Chowdury of Bangladesh, Egyptian Engineer Khalid Ismael, the Honorable John Moustous of Greece, the Honorable Lascelles Chin of Jamaica, and the Honorable Mohammed Abdulaziz Suleiman Al-Afaleq of the Kingdom of Saudi Arabia.
Dr. Billy Chan, Vice President of the Gusi Peace Prize International, said, "In the spirit of the ASEAN conference held in Manila just a few days ago, leaders of the world came together to agree on cooperation and harmony. They concurred that no nation should gain by taking advantage of another. That our citizens will prospers together, grow community, and enrich culture, knowledge and wealth—that the underprivileged shall be taken care of."
Dr. Chan continued, "This is the true spirit of Global harmonization. In this spirit, the Gusi Peace Prize recognizes and award individuals with exceptional contributions in areas of commerce, health, science, culture, education, humanitarian and politics, among many."
Dr. Chan added, "Tonight, we are here among the 2017 Gusi Peace Prize laureates, who have brought magnificent changes to the lives of their country's people and to the world."