Laureates of the world stand for peace in Manila, Philippines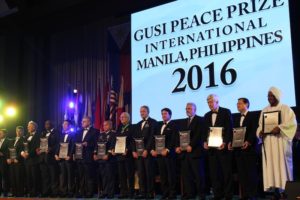 By Christopher Cottrell/Photo Credits:Christopher Cottrell
Laureates for the 15th Gusi Peace Prize International gathered in Manila, Philippines from November 21 to 23 to celebrate humanity and hope.
Representing 14 countries, this year's Gusi Laureates were honored by many opening speeches—including heroic words from Syrian architect Moussallam Sakka Amini. Many of the buildings Mr. Amini has designed in his native homeland have been bombed and destroyed by the ongoing civil war.
On the evening of November 21, Mr. Amini told assembled guests, "I am very honored to get this prize. This event proves to me that we in humanity, we are all children of god. These kinds of efforts strengthen the relationships between people regardless of their religion or their sectarian or their blood. Events like this improve the relationships. I hope that it will be successful."
Named after Captain Gemeniano Javier Gusi, a World War II guerilla warrior who later became a politician and champion of human rights in the Philippines, the Gusi Peace Prize International began in 2002. Under a Presidential Proclamation signed by former Philippines president Gloria Macapagal Arroyo in 2008, the fourth Wednesday of every November was declared as the Gusi Peace Prize International Friendship Day.
This year the Gusi Peace Prize International Friendship Day fell on November 22. For it, the Gusi Laureates assembled at dawn at the Jose Rizal Memorial Park for a wreath laying ceremony and 21-gun salute. It was proceeded over by 2016 Gusi Laureate the Hon. Kanahiya Lal Ganju of India and the head of the Philippines Marines Corp.
The 2016 Laureates included Australia's Dr. Kingsley Faulkner, former President of the Royal Australasia College of Surgeons, for his anti-smoking campaigns. Three other doctors were also named as 2016 Laureates, one from the People's Republic of China and two from the United States of America.
Dr. Jiang Baoguo from the People's Republic of China (PRC), President of the Peking University Hospital in Beijing, won for his work with trauma and traffic medicine. His program is saving millions of lives in China and his communication and training module will be in place in more than 100 cities across the PRC in 2017.
American medical laureates included Dr. Philip Fidler, for his work with burns victims, and Dr. Vincent Giampapa, for his work with anti-aging medicine. Attorney Amor Masovic from Bosnia & Herzegovina was awarded this year for his work saving refugees during the Balkans conflicts of the early 1990s.
Education laureates included Mr. Bani Adam of Iran and the Hon. Abdallah Al-Badri of Sudan. For diplomacy, the Hon. Kanahiya Lal Ganju of India was named a laureate for his endeavors with the International Federation of Consular Corps and Associations. Prime Minister Timothy Harris from St. Kitts and Nevis was awarded for statesmanship.
The Hon. Daiseku Ikeda, founder of Soka Gakkai International, owing to old age and frailty, had his peace award accepted by his son Hiromasa Ikeda. The honorable Michael Nobel, member of the Nobel Peace Prize family, is a Gusi Executive Board Member and personally nominated the Hon. Daiseku Ikeda for his peaceful Buddhist movement.
Cultural historian, philosopher and author Nicholas Hagger of the United Kingdom won a Gusi for his poetry. The Health Minister of Romania, the Honourable Nicolae Banicioiu, won for his governance and social service.
This year's special winner from the Philippines was PDG Ronald "Bato" Dela Rosa, for leading of the war on drugs under the direction of President Rodrigo Duterte.
On the evening of the grand gala award ceremony on November 23, "Bato" which means "Rock" in Tagalog, gave a rousing speech before any audience of 6,000 at the Philippines International Convention Center.
General Dela Rosa said, "I share with my fellow peace laureates an utter commitment to peace. We are here tonight because we share this common vision. The roads we have taken will not be the same. The issues we have been fighting for may vary in many ways. But one I thing I know is certain. We all dream of peace. And what makes the difference is that we are willing to give our all to achieve…I pray for the day we can come together again to celebrate our victories."
The Gusi tradition of a long evening of speeches and cultural performances were inspiring that night. These ranged from Soka Gakkai International dancers from Tokyo to Sudanese drummers to a ballad sung by Mikko Gusi, son of Gusi Peace Prize International chairpersons Barry Gusi and Dr. Colonel Evelyn Gusi. Famed Filipina Regine Velasquez also graced the Gusi stage with soulful songs.
The night also featured special speeches by Michael Nobel, of the Nobel Peace prize family and co-founder and former Chairman of the Nobel Charitable Trust, and Aykut Eken, president of the international Federation of Consular Corps and Associations.
This year's president of the Gusi Board, Professor Manson Fok of China, was also sworn in for his new duties. Prof. Fok is himself a Gusi Peace Prize International Laureate for 2014 for his medical philanthropy.
Regarding his contributions with the medical committee on the Gusi with Dr. Colonel Evelyn Gusi, Prof. Fok said, "Together we can really change the scenery because around us there are still so many diseases and illnesses that we really need to put our heads together and change and improve the healthcare for our citizens."
For better medical peace, Prof. Fok and the Vice-President of the Gusi Peace Prize International, Dr. Billy Chan, last year launched the co-concurring Sino Asia-Pacific Medical Forum.
Of this, Dr. Fok said, "Last year we held the first Sino Asia-Pacific meeting in Manila. We have had many follow ups. One of them was with a Gusi Peace laureate, former Portuguese president Eanes. He invited us to Portugal and we brought a team of doctors from China, including members from the National Healthcare and Family Planning Commission to meet up with all of the delegates from Portuguese speaking countries. This included meeting the health ministers of Portugal, Mozambique, and Guinea-Bissau. There were a lot of important discussions and further collaborations that came out of that."
Prof. Fok further remarked that, "Another laureate from last year we worked with was the honorable H.E. Hun Many, son of Cambodia Prime Minister Hun Sen. We were able to visit and spend some time there visiting hospitals. We went to the orphanages and the outreach clinics and saw first hand what the Cambodian government has done to look after the underprivileged citizens."
Vice President of the forum, Dr. Billy Chan, commented, "The Philippines has been a wonderful neighbor, and a great friend in Asia for centuries. Last year when we were here, the Philippines and China were at the lowest point in their relationship ever. Who could have imagined that after 12 months that things would turn around so beautifully."
Dr. Billy Chan, who is also the Director of the Center of Excellence for Medical Professional Development and Executive Assistant to the Dean of the Faculty of Health Sciences at the Macau University of Science and Technology (MUST), said, "We've all gathered tonight in the spirit of peace…."
Dr. Chan continued, "We have our Asia Pacific forum in the name of health. Since last year, we have developed something attached to the Gusi Foundation together. Our little contribution in health and medicine will address problems in health faced here in Asia."
Dr. Chan added, "Thankfully, we have the internet to string the global village into an even smaller place. All these advancements with undersea cables and satellites can really bring people together. I urge each one of you to do your very best, and support this wonderful mission and the Gusi family."