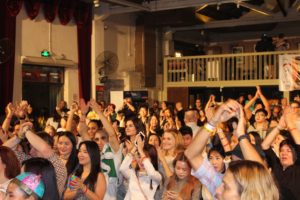 By Christopher Cottrell / Photo Credits: Christopher Cottrell
Billy da' Kidd rolls out a hard riff. His guitarist Jose Da Silva then lets loose with piercing chords.
The crowd of over 500 expats and Chinese go wild and sing along, "Wherever you go, whatever you do, I will be right here waiting for you."
This sort of carefree, good feeling atmosphere is part of the Come Together experience—a music festival organized for a local children's charity. Five years ago, an expat musician Ron Keelan with the handle "Chopperwood" died suddenly, leaving his Chinese wife Ivy Yawen and newborn Sofia Ronnee Keelan with a rough road ahead.
Five years ago, Zhuhai expats such as JJ Verdun, owner of San Jiao Ling Public Relations agency, and Nick Cunningham, co-owner of China 2 West, Mark Clayton, also a partner and China 2 West, and Macau based musician Billy da' Kidd came together to help the Ron Keelan Memorial Fund. They raised a healthy sum of money for Keelan's wife and a peace concert tradition in the small city of Zhuhai was born.
Five years later, the concert has evolved with several bands and local supporters. Held at the Beishan concert hall, this year's closing band, as always, was Billy da' Kidd and his Macau High Rollers.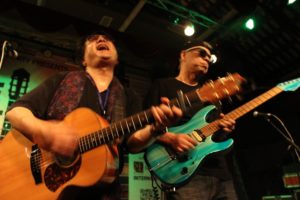 "This was an incredible concert, and the Zhuhai crowd was lovely. They sang along. They danced. This was one of the best concerts I've played," said Billy da Kidd.
Two of the main organizers this year, JJ Verdun and Mark Clayton, announced in a statement that over RMB 330,000 was raised this year—thirty thousand more than last year.
Mr. Clayton will carry on this spirit of this year's Come Together by continuing to promote music at his local London Lounge, a British pub-grub hot-spot, and preparing for the 2017 show.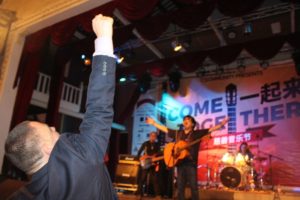 Mr. Verdun's San Jiao Ling agency will also build the bonfire for next year's show by gathering more sponsors through his national clientele list in China.
Nestled next to Macau on the western banks of China's Pearl River Delta, Zhuhai is rising as it is connected to Hong Kong via one of the world's largest bridges: the Hong Kong-Zhuhai-Macau bridge.
Organizers of Come Together expect the bridge to catapult their humble city into the international limelight when it opens in the next few years—expanding the concert and its charitable impact to further rock on.