Hiromasa Ikeda and Prof. Manson Fok on Peace
Meeting of hearts and minds in Manila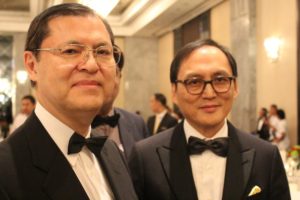 By Christopher Cottrell / Photo Credit: Christopher Cottrell
The Gusi Peace Prize International kickoff in Manila, Philippines today is witnessing a special meeting of hearts and minds.
Two such individuals meeting are Hiromasa Ikeda, eldest son of the eminent of the Soka Gakkai International Buddhist movement, and Prof. Manson Fok, son of the late Chinese entrepreneur and philanthropist Dr. Henry Fok.
Here in Manila the two have met and exchanged words for global peace—Mr. Hiromasa Ikeda is accepting the Gusi award tonight on behalf of his father. Prof. Fok is now the president of the Gusi Peace Prize International. Mr. Daisaku Ikeda is over 90-years old and resting, so his eldest son will take the award tonight for him.
Mr. Hiromasa Ikeda says to Peace Post, "The Philippines is very close and familiar to my father. He has the honor to enjoy friendships with the leaders of the Philippines, presidents of the Philippines. So it is indeed a great honor to my father to receive this award here the beautiful Philippines."
What is his hope for this Gusi conference in its mission ahead?
Mr. Ikeda says, "Because we are currently living in a world of division, it is extremely important that we don't lose our hope in working for peace. We will create unity and solidarity with the peoples of the world. In that sense, I think this event, the Gusi Peace Prize, has significance in giving us the hope to never give up."
For members of Soka Gakkai International, Mr. Ikeda says, "It is the SGI philosophy to work toward our ideal of creating unity within our world, transcending national borders, and transcending various cultural and ethnic differences. In that sense, the philosophy of the Gusi Peace Prize deeply resonates with ours."
Running in tandem with the Gusi Peace Prize is Dr. Manson Fok's Sino Asia-Pacific Medical Forum, based in Macau, China. This forum brings together the finest medical minds to address healthcare concerns arising in the Asia Pacific region. Last year it launched in Manila and Macau with a special communiqué signed by former Portuguese general and president Eanes. Since then it has donated HK$ 500,000 in sonograms to doctors in Cambodia, as well as hosted a global medical conference with doctors from Africa, Asia, and Europe in Porto, Portugal.
Comments Dr. Fok, "I think we of the Sino Asia-Pacific Medical Forum are very fortunate to have a very good partner with the Gusi Peace Prize. Because every year the Gusi Peace Prize brings together many laureates from around the world. They are clinicians and experts in their fields. When you put them in one room to share their expertise is a tremendous message that they give to the audience, and also the doctors attending from the Philippines."
Dr. Fok continues, "For this year, we actually have a very strong contingency from the People's Republic of China. This year one of the Gusi laureates, Dr. Jiang is from Beijing, from Peking University Hospital. It is one of the finest in China. He is an expert in the field of trauma medicine. He was here yesterday at the forum and was very well received.
Regarding the strengthening Sino-Philippine ties in the light of refreshed relations since the election of Rodrigo Duterte as president of the Philippines, Dr. Fok tells the Peace Post, "I think that human contact is very important. As you know, Chinese and Philippines people have been friends for many, many years. You can feel the fellowship that we have when we share a similar platform in the field of medicine, because when we talk about treating patients, there's really know differences in nationalities, no differences in borders."
Dr. Fok adds, "We face the same problems and we help each other. This is the spirit of the Asia Pacific Medical Forum and the Gusi Peace Prize." 
This sentiment resonates with the tenor of what his eminence Daisaku Ikeda has said in the past, "In the end, peace will not be realized by politicians signing treaties. True and lasting peace will only be realized by forging life-to-life bonds of trust and friendship among the world's people. Human solidarity is built by opening our hearts to each other. This is the power of dialogue."